Healthy Vacation Rentals!
Big Island of Hawaii

Times have been a little crazy, to say the least, and considering this, it may be the best time to spend on what is most important, our mental, emotional and physical health.
Starting January 30th, 2022 - Earther Academy is now offering "Healthy Vacation Rentals" in one of the most pristine tropical environments on the planet.
At this time, we are not going to offer medically supervised retreats but we will be open for 2-4 people to come and rent the private space for your healthy vacation, or a personal reset/detoxification time, if you wish to do so.
Our "private" Hawaiian Sanctuary is located on the famous Hamakua coast of the Big Island of Hawaii, and is a 27 acre organic tropical fruit farm with on site idyllic waterfalls, away from toxic environments and stresses that most people are exposed to on a daily basis, especially in these times.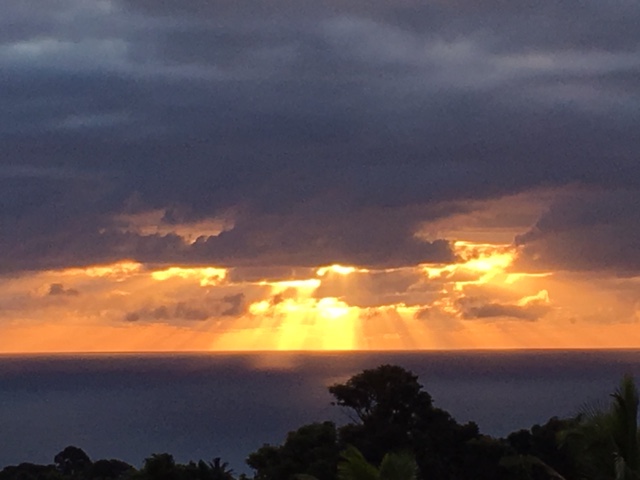 Many find themselves in very stressful, if not volatile environments on a  24/7 basis. The list of exposures are long as we have discussed, in depth, in our Earther Academy videos, articles and curriculum.
For the next several months, we will be opening our private gated estate sanctuary to those looking for a healthy vacation, while detoxing and decompressing from what at times appears to be insanity.
Watch Our Announcement Video
We're offering private vacation rental space that can accommodate up to four people on our tropical fruit farm, overlooking the famous, breathtaking views of the South Pacific Ocean on the Hamakua Coast.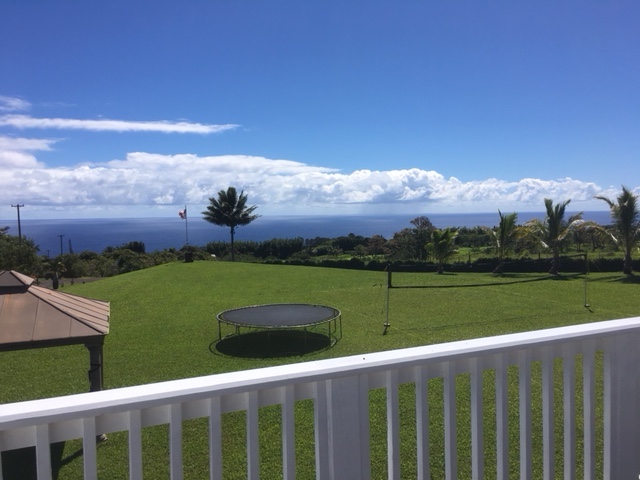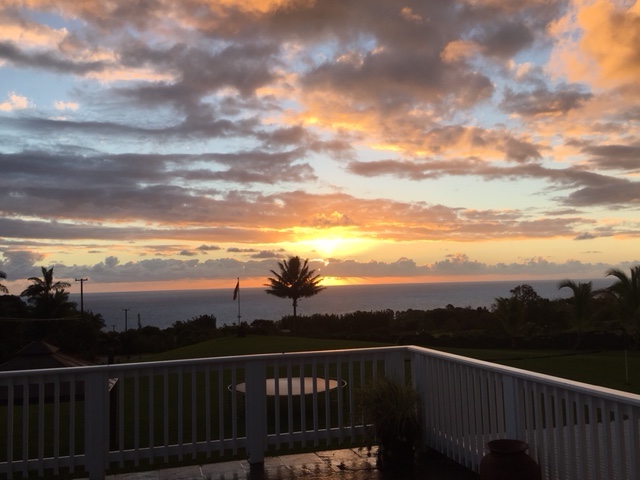 In the Hawaiian native language, "Hamakua" is defined as: "The Breath of God" and it is truly amazing here. You will not find cleaner air and more beautiful sunrises anywhere.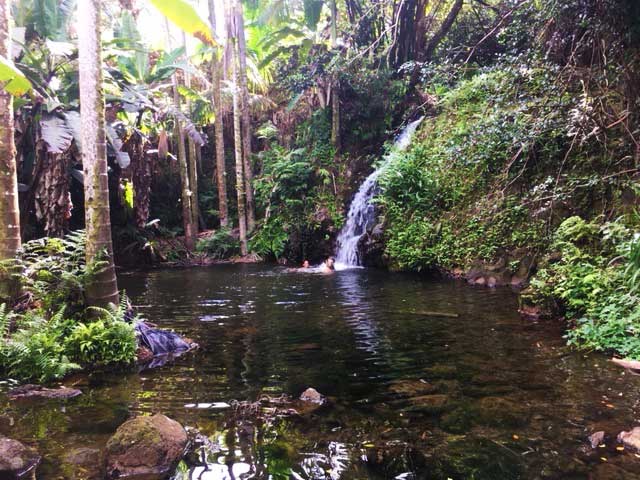 If you're interested in deeper detoxification, during your stay, you may want to do a liquid fast for a few days and also observe some of the Earther Academy detox protocols on your own, at your own leisure.
Example of an effective and simple personal cleanse:
If you like, you may choose to do a few days of fasting and follow some of the Earther Academy protocols.
A simple fast could be: Intermittent Fasting for a few days on any type of liquid only, coupled with daily steam/FIR saunas, cold plunges in the waterfalls, morning and evening nature walks around the farm and then eating one small meal per day, if you are wanting to continue losing weight and toxic accumulation to have an increased effect.
You may also choose to do the skin cleansing and detoxification protocols.
One of my favorite things to do after skin cleaning is simply soaking up the sun's plasma and breathing the negative charged ions from the spring fed waterfalls, combined with the pacific ocean charged oxygenated air is an unforgettable gift in itself for the mind and body.
The average air and water temperature is 80-84 degrees daily, and the sanctuary is about 600 ft elevation on Mauna Kea mountain, the tallest mountain on Earth.
Just being here in this natural pristine environment decompresses and resets the mind, body and soul back to balance.
Take Advantage Of Our Additional Amenities And Activities
FIR Infrared Sauna
Rain Water Steam Sauna
Swimming at the Waterfall Pond
Volleyball & Horseshoes
Exercise / Nature Walks
Meditation and Exceptional Relaxation
Pick and Sample our Tropical Fruit when in Season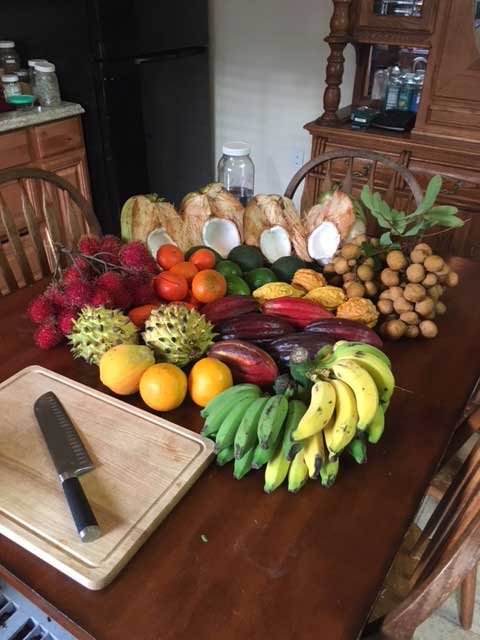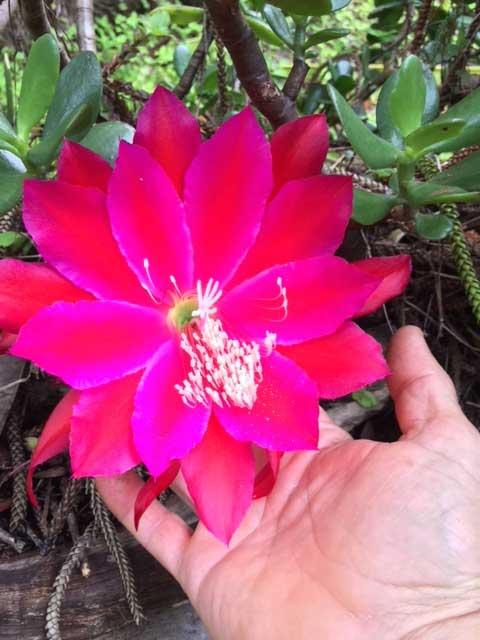 The 2 bd / main master suite ohana unit is available for rental at this time.
The most beautiful part of the house is the entire second floor of the main house and is a festive, open-spacious and very cozy den-like home with a giant open wood beam living / entertainment room leading to a large deck overlooking the ocean.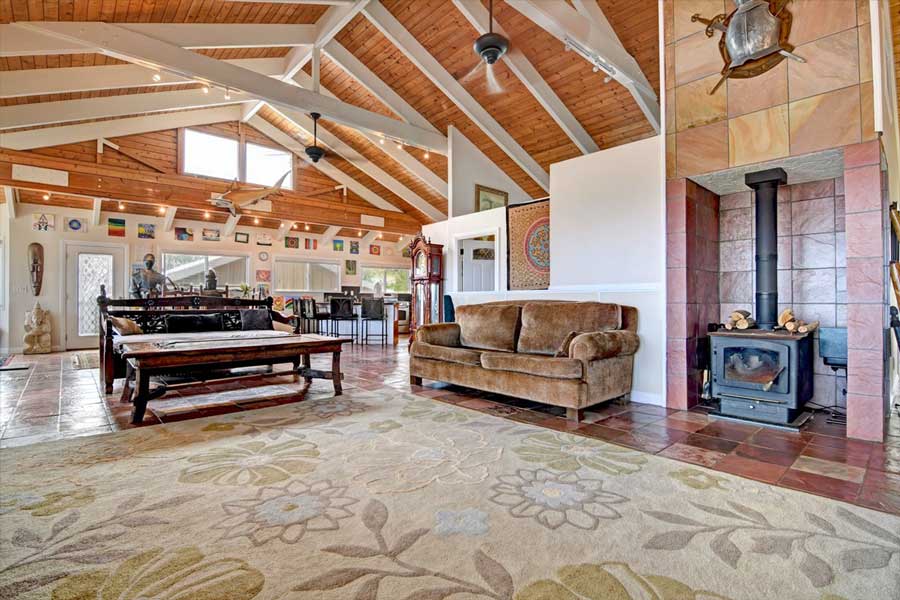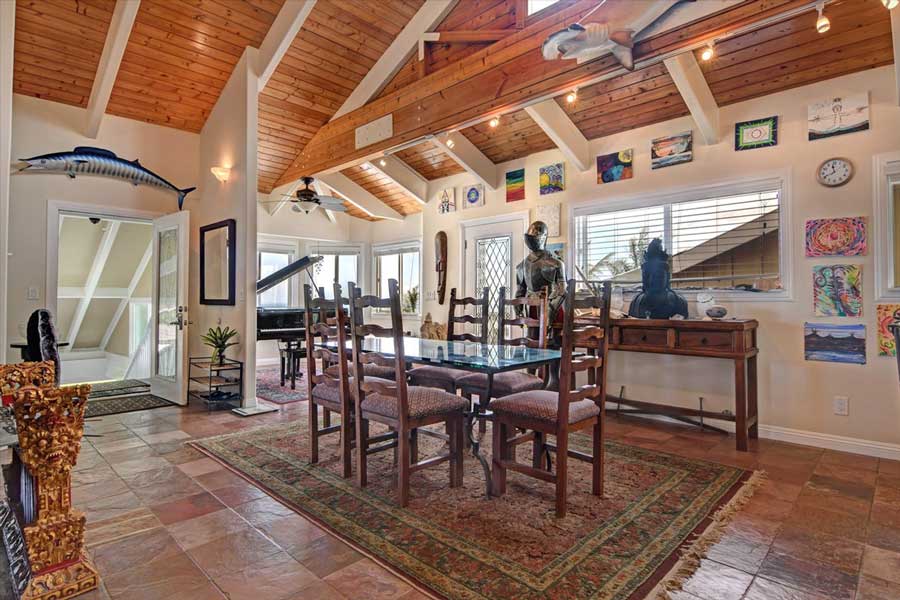 The entire ohana is beautifully decorated with many large purple amethyst and quartz crystals, Balinesian style furniture, 57 inch widescreen TV, connected with cable and wired high speed internet.
We do not use wifi in the house for health reasons but we do have direct wire access throughout the house.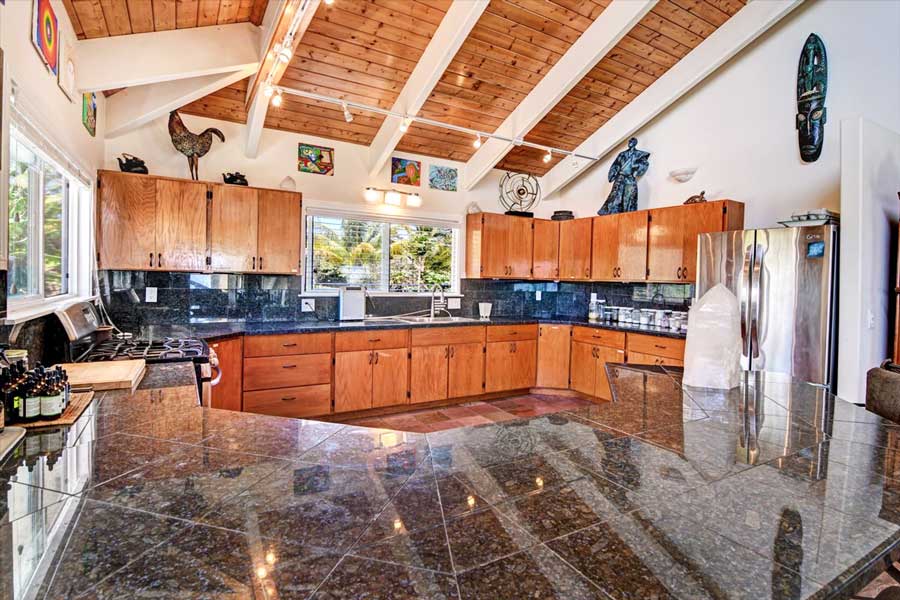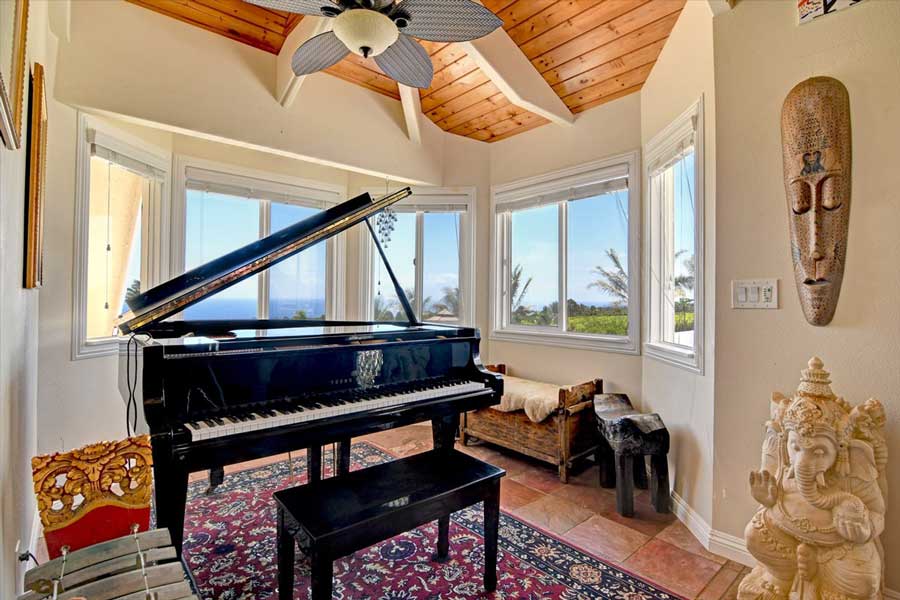 This suite also has a very large kitchen with granite countertops and bar that seats 5.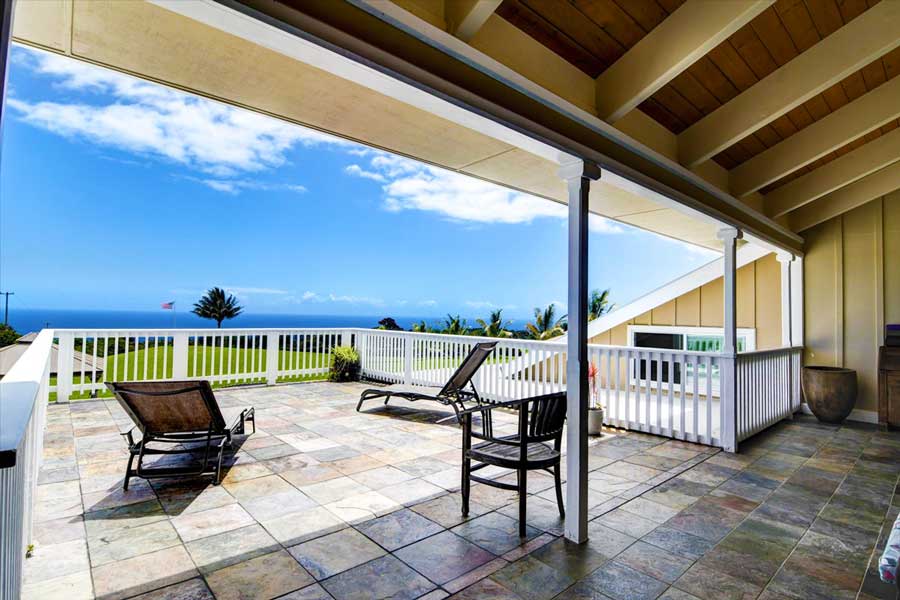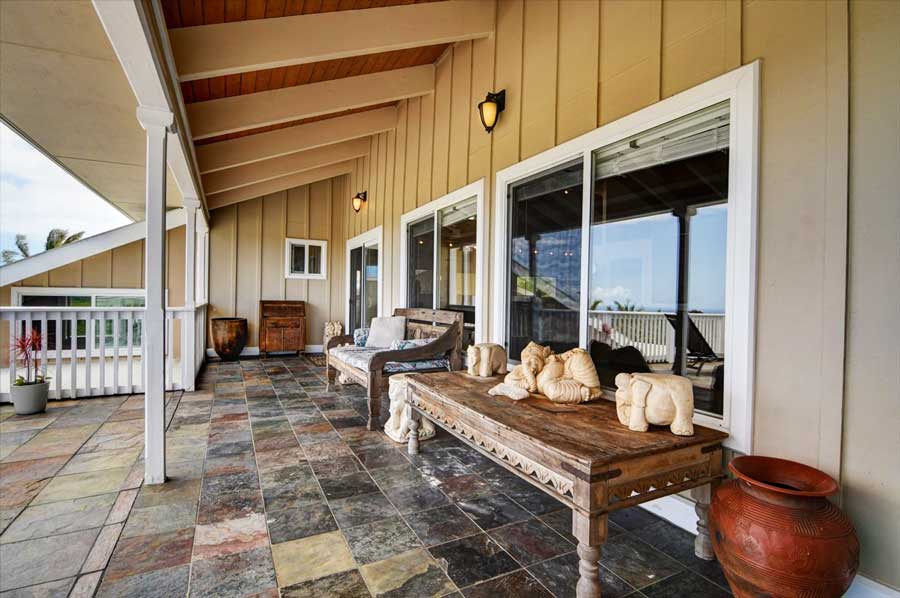 The master suite and family room lead to the large sundeck overlooking the beautiful property and spectacular ocean views. The second bedroom has a queen size bed and a single sized bed in the room.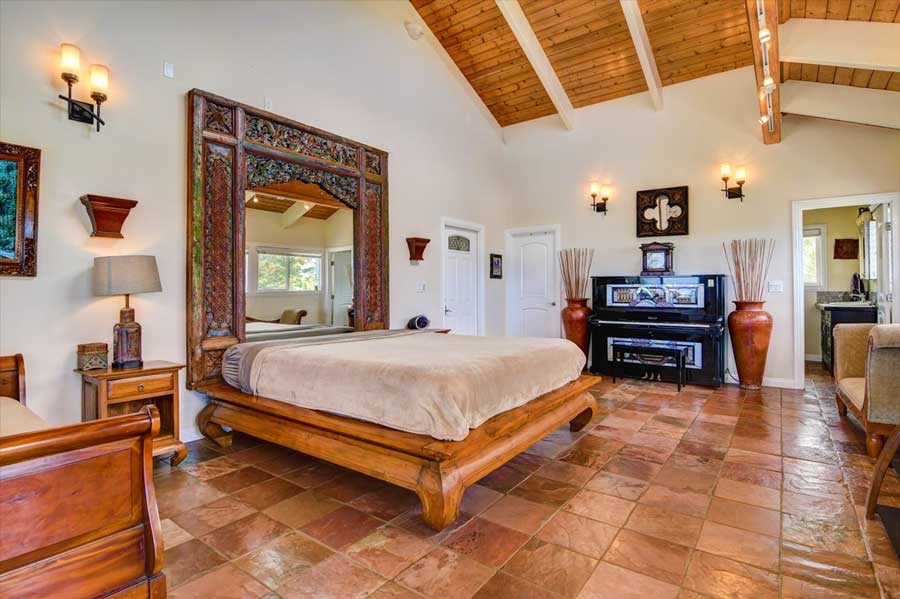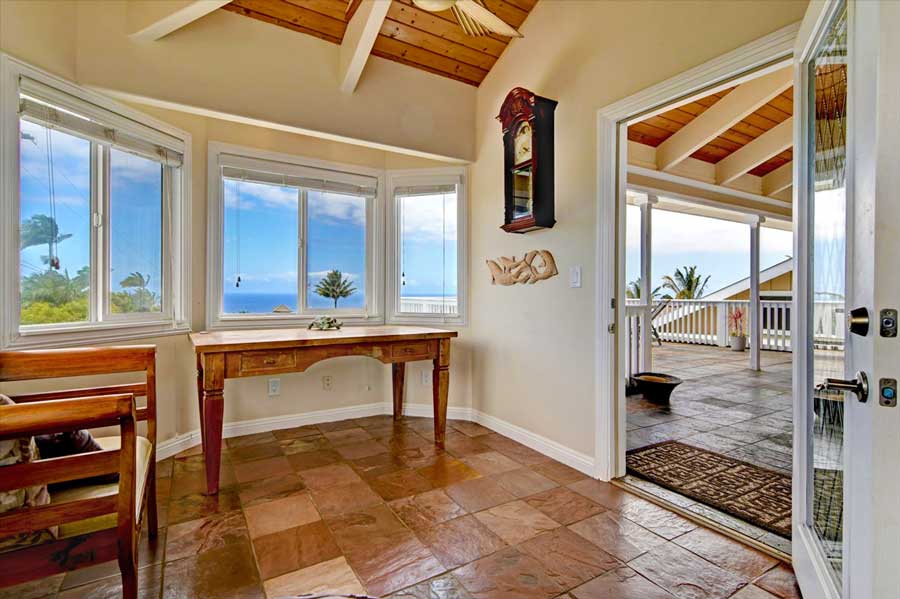 The living room also has a comfortable daybed for an extra person if needed. This unit can sleep up to 3 - 4 people comfortably.
The Ohana has two bedrooms and 1.5 bathrooms, including a very spacious master bedroom with 1 king and double sized beds decorated throughout with Balinese furniture, walk-in closet and office area overlooking the pacific ocean.
---
Watch this 6 min Drone Video Tour of the Earther Academy Sanctuary
Everyone participating in the "Healthy Vacation Rentals" will also receive a Free 6 Months Full Access Membership to Earther Academy!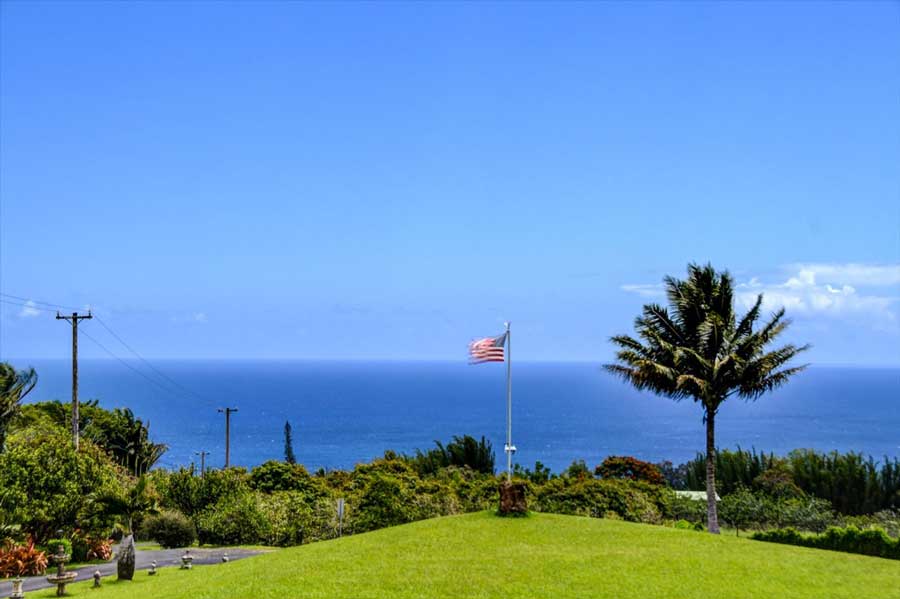 Upper Deck View from the Master Suite
The Big Island of Hawaii contains the tallest mountains in the world - Mauna Kea and Mauna Loa.
Hawaii's Mauna Kea, rises an astonishing 33,476 feet (10,203 meters) from the depths of the Pacific Ocean floor and is 13,800 ft above sea level.
Hawaii is massively bigger and is the largest of all of the Hawaiian islands. Hawaii is also the most remote island and most active volcano in the world with a population of approximately 175K people on the entire island.